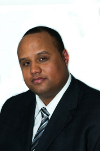 I couldn't believe it, a three-year dream was finally a reality!
I had worked so hard for those three years to transition from a job I absolutely hated to writing, speaking and coaching full-time. Motivation? I had an unlimited supply of motivation while I was chasing my dream, I was determined.
So there I was on day one and since I had no problem with motivation before, I thought I would get ten times as much accomplished. I went through my normal morning routine and was anxious to sit down and write.

=>> Click to read the full article...