Motivation Web log (our motivational blog) - Check here for recently added articles from leading motivational speakers and authors.

Motivational Quotes - Search Our extensive database of personal development quotes! Over 13,000 available.

Goal Setting & achievement Section - Experts share advice on setting goals, and how to achieve yours starting now!... learn more about goal-setting

Motivation and Success Articles - our ever-expanding collection of articles from the leaders in success, motivation, self-improvement, personal development, and business.

Personal development & self-improvement resource directory - includes motivational, personal development, self-improvement & success related resources (recommend your site).

Our Jim Rohn Success Library offers a collection of his best articles and essays... Read Jim Rohn's motivational articles.
Focus On Success Interviews: a collection of conversations I have done with various motivational speakers, trainers, and authors. As you read through these interviews keep in mind the saying, "success leaves clues".

The Motivational Speakers Hall of Fame - biographies of such motivational speakers as: Zig Ziglar, Jim Rohn, Napoleon Hill, Dr. Norman Vincent Peale, Les Brown, Stephen Covey, John Gray, Richard Carlson, Dr. Maxwell Maltz, Brian Tracy, Tony Robbins, Dr. Wayne W. Dyer, Barbara Deangelis, Tom Hopkins, Denis Waitley, Mark Victor Hansen, Og Mandino, and a host of others that make up some of the most talented in the public speaking industry -- past and present.
Inspirational Stories - if you need something positive to think about, or just need a quick motivational boost you will find it in our Inspirational stories section.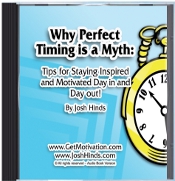 A Tool to Help You Achieve Your Goals & Dreams...

Why Perfect Timing is a Myth: Tips for Staying Inspired and Motivated Day in and Day out!
By Josh Hinds

Look what others have to say about it...

"Wow! In Why Perfect Timing is a Myth, Josh Hinds puts together the key ingredients you need to create the life you want. You should get it now for yourself first then everyone you really care about."
-- Rene Godefroy
Speaker & Author of Kick Your Excuses Goodbye

*Get your copy of Why Perfect Timing is a Myth

Networkers Toolbox - resources to help network marketers and home based business owners find more success in their efforts.

Prosperity and Manifesting Abundance articles and advice on manifesting abundance and developing a prosperity consciousness in your life. Learn prosperity building tips from such notable experts as Randy Gage, Robert Kiyosaki and more.