Menu
Each issue features exciting advice and ideas from the leaders in motivation and self-improvement! As a member of our free newsletter you get action packed ideas that you can implement right now to put yourself on the fast track to personal success.

Sheila Murray Bethel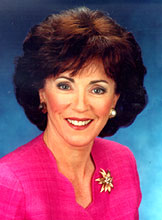 High-energy and funny--timeless and timely--entertaining and educational--powerful and poignant" are the words most often used to describe Dr. Sheila Murray Bethel's presentations.
As the best-selling author of Making a Difference: Twelve Qualities That Make You a Leader
, a member of the Speakers Hall of Fame and with a Doctorate in Communications, Sheila brings a unique depth of sensitivity to her specialties of: Change, Leadership and Personal Excellence.
Her combination of expertise, substance, inspiration and humor, invigorates and energizes people to take action in their business and personal lives. Sheila helps organizations maximize human resources, solve people problems and increase gross revenues. She takes complex issues and translates them into easily understood concepts and actions.
With humble beginnings and only a high school education, Sheila's business career began when she accepted the opportunity of becoming coordinator of an institute that trained brain-injured children. As a single mother struggling to raise and educate her two sons, she went on to an award winning sales and sales management career, building two successful organizations.
It was out of these challenging circumstances that Sheila discovered her unique talents as a speaker. Her own life story is an inspiring example of how anyone can rise above his or her circumstances to make a difference. Through a twenty-year personal study plan she eventually earned her Doctorate. She has gone from the "ironing board to the executive board." She proves that with hard work and perseverance you can accomplish your dreams.
Sheila has been recognized as one of the "21 Top Speakers for the 21st Century," by Successful Meetings Magazine. She has made presentations to nearly 2 million people in 17 countries and has shared the platform with former President Gerald Ford, General Colin L. Powell, publisher Katharine Graham, Michael Jordan, Evander Holyfield, Pat Riley and former First Lady Hillary Clinton, among other luminaries. Her client list reads like a Global Who's Who of Business, Trade Associations, Education and Government.
She has been inducted into the International Who's Who of Professional and Business Women's Hall of Fame. Sheila is host of the National Public Television Specials, Making a Difference. These specials focus on celebrities who team up with every day Americans to make a difference at the grass-roots level in the lives of our nation's youth. Dr. Bethel serves on the Board of Advisor's for America's Promise-The Alliance for Youth chaired by General Colin L. Powell.
In 1990, she interfaced with the Bush White House and the Polish Parliament to consult with and train Polish businesses being transformed by privatization. It was at this time she established the first privately owned business-training center in Eastern Europe, located in Opole, Poland. Sheila has a passion for impacting others. When her gifts on the platform help people, she says, "I'm just the messenger, it's what happens inside of them that makes the real difference-- that's the quiet miracle of personal achievement."
Quick Navigation:
Quotes by Sheila Murray Bethel ...
"Leadership is not something that you learn once and for all. It is an ever-evolving pattern of skills, talents, and ideas that grow and change as you do." -- Sheila Murray Bethel
"One of the most courageous things you can do is identify yourself, know who you are, what you believe in, and where you want to go." -- Sheila Murray Bethel
"Everyday leaders influence as much as world leaders because they act as role models and set examples for us on a much more personal level." -- Sheila Murray Bethel
"Shared values bring a wholeness to individuals and organization so they can weather the storms of change. We are what we value." -- Sheila Murray Bethel
Sheila Murray Bethel Video Presentation ...