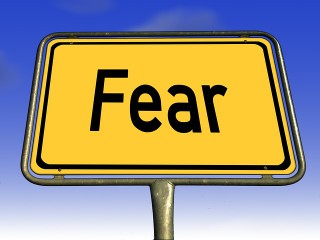 I'll readily admit I made a bold statement with the title of this article. The promise that I can help with anxiety & fear is no small claim. While I'm no psychologist or psychiatrist (nor do I play one on TV…ha ha) I do know a thing or two about fear, anxiety, and most importantly, how to get on the other side of letting it hold you back from living more fully in life.
At one point in my life I dealt with some pretty extreme anxiety — I know what fear feels like, and while I realize it's often brought on by irrational thinking, in the moment one is experiencing it it feels like anything but that. I talk a lot more about the specifics on my battle with fear & anxiety in my book, but our purpose here isn't to discuss the nitty gritty details of what I went through. Rather, it is to dissect the practical things I did, and to some extent, still do in the hopes that you can formulate your own plan for overcoming something similar. While you may not experience fear or anxiety to the same level I did, or others do, the skills I hope to share will still be useful for you.
Strategies for Overcoming Fear and Anxiety
1. Acknowledge that there are varying levels of anxiety. In some instances you might be able to work through things yourself, and in other instances you may need the help of a medical professional to walk through your challenges. If that's the case, don't beat yourself up over it, accept the help, and play an active role in whatever plan is formulated to help you.