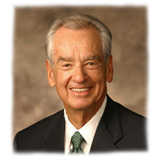 "You've got to learn to lose in order to win" sounds like strange advice, but the man who says it has earned over three hundred million dollars. Even in today's economy, that's a considerable sum of money. Here's the story.
In 1958, brothers Frank and Dan Carney started a pizza parlor across from their family's grocery store. Their goal was to pay for their college educations. Nineteen years later, Frank Carney sold the 3,100-outlet chain called "Pizza Hut" for three hundred million dollars.

=>> Click to read the full article...