Menu
Each issue features exciting advice and ideas from the leaders in motivation and self-improvement! As a member of our free newsletter you get action packed ideas that you can implement right now to put yourself on the fast track to personal success.

John Gray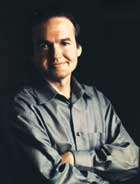 John Gray, Ph.D. is author of the phenomenal best-selling book Men Are From Mars, Women Are From Venus (HarperCollins, May 1992), which has sold more than 6 million copies in the United States and millions more in 40 different languages around the world.
Dr. Gray has also authored Mars and Venus in the Bedroom (HarperCollins, April 1995), Mars and Venus Together Forever (Harper Perennial, March 1996, a revised second edition of What Your Mother Couldn't Tell You and Your Father Didn't Know), Mars and Venus in Love (HarperCollins, June 1996), Mars and Venus on a Date (HarperCollins, June 1997), Mars and Venus Starting Over (HarperCollins, June 1998), and Men Are From Mars, Women Are From Venus: Book of Days, (HarperCollins, October 1998).
His book, How To Get What You Want and Want What You Have: A Practical and Spiritual Guide to Personal Success (HarperCollins, January, 1999), is a departure from the male/female relationships theme of his Mars-Venus series.
The book offers a simple yet dynamic approach to creating a more meaningful and fulfilling life by working through self-defeating emotional blocks and connecting with one's spiritual source through daily meditation in order to achieve personal success. Dr. Gray's next book is on the topic of positive parenting and will be published in September of 1999, entitled Children Are From Heaven.
An internationally recognized expert in the fields of communications and relationships, John Gray's unique focus is assisting men and women in understanding, respecting, and appreciating their differences. For more than twenty years, he has conducted public and private seminars to thousands of participants.
In his highly acclaimed books, audiotapes and videotapes, as well as in his enlightening lectures and stimulating weekend seminars, Gray entertains and inspires audiences with his practical insights and easy-to-use communication techniques that can be immediately applied to enrich relationships.
John Gray is a popular speaker on the national lecture circuit and often appears on television and radio programs to discuss his work. He has made guest appearances on such shows as: Oprah, Good Morning America, The Today Show, The View, Politically Incorrect, Larry King Live, The Roseanne Show, CNN and Company, and many others.
He has been profiled in USA Today, Time Magazine, TV Guide, People Magazine, New Age Journal, Forbes, and numerous major newspapers across the U.S. In 1997, his work was the focus of a two-hour ABC special hosted by Barbara Walters entitled "Men Are From Mars, Women Are From Venus, But We Have To Live On Earth".
His landmark book has now been turned into a fun board game for singles and couples. Men Are From Mars, Women Are From Venus: the Game, published by Mattel, was the best-selling adult social interactive game of 1998.
John Gray is also a nationally syndicated columnist with the L.A. Times Syndicate. His "John Gray's Mars and Venus" column is published in a number of U.S. newspapers, including the L.A. Times, Atlanta Journal/Constitution, Newsday, New York Daily News, Chicago Sun Times, Denver Post, Arizona Republic, San Antonio Express-News, the Oregonian, and Detroit Free Press. Internationally, the column currently runs in newspapers in Canada, Mexico and Israel.
John is married to Bonnie Gray; together they have three daughters. John understands, from first-hand experience, the principles of a successful marriage and, having been previously married, he has also witnessed the problems encountered as a result of divorce.
Dr. Gray is a Consulting Editor of The Family Journal, a member of the Distinguished Advisory Board of the IAMFC, a Fellow and Diplomate of the American Board of Medical Psychotherapists and Psychodiagnosticians, a Diplomate and Board Certified Expert in Traumatic Stress (American Academy of Experts in Traumatic Stress), and a member of the American Counseling Association.
"When men and women are able to respect and accept their differences then love has a chance to blossom." -- John Gray
* Men Are from Mars, Women Are from Venus
-- In this program you'll learn to create less stressful, and more fulfilling connections.
Quick Navigation:
Quotes by John Gray ...
"When a man can listen to a woman's feelings without getting angry and frustrated, he gives her a wonderful gift. He makes it safe for her to express herself. The more she is able to express herself, the more she feels heard and understood, and the more she is able to give a man the loving trust, acceptance, appreciation, admiration, approval, and encouragement that he needs." -- John Gray
"Men need to remember that women talk about problems to get close and not necessarily to get solutions." -- John Gray
"Love is magical, and it can last, if we remember our differences." -- John Gray