Menu
Each issue features exciting advice and ideas from the leaders in motivation and self-improvement! As a member of our free newsletter you get action packed ideas that you can implement right now to put yourself on the fast track to personal success.

Charlie "Tremendous" Jones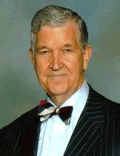 For over 50 years, Charlie "Tremendous" Jones had a simple, yet powerful mission: To help people improve their lives through reading. Charlie entered the world of business, in the insurance industry at just 22 years of age. By age 23, he was awarded his agency's Most Valuable Associate Award. Ten years later, he received his company's highest management award for recruiting, manpower and development, and business management.
In 1965, he founded Life Management Services to share his experience through seminars and consulting services. Thousands of audiences around the world have experienced nonstop laughter as Mr. Charlie "T" Jones shared his ideas about life's most challenging situations in business and at home.
He is the author and editor of several books, including Life Is Tremendous
of which more than 2,000,000 copies have been printed in 12 languages.
He has been featured in numerous other speakers' books and training programs including: "Leadership by the Book" series with Ken Blanchard, "Excelling in the New Millennium" with Jim Rohn, and many more.
Charlie Jones was one of the leaders in the personal and professional development industry. His legacy lives on through the countless people he has positively impacted, and through the written words shared and the countless presentations he gave.
Born: October 23, 1927
Died: October 16, 2008
Quick Navigation:
Quotes by Charlie "Tremendous" Jones ...
"You will be the same person in five years as you are today except for the people you meet and the books you read." -- Charlie "Tremendous" Jones
"Leaders are readers." -- Charlie "Tremendous" Jones
"No one is a failure until they blame somebody else." -- Charlie "Tremendous" Jones
Articles by Charlie "Tremendous" Jones ...
Loneliness Is Tremendous
Abandonment Is Tremendous
Video Presentation By Charlie "Tremendous" Jones ...