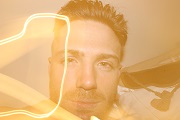 Do you ever feel stuck? Do you ever feel that you are a slave to your work, yet your work doesn't fulfill you and it leaves you feeling empty and unaccomplished? Have you ever felt that what you are doing is meaningless, or that despite your success you feel you aren't on the right path in life?
It wasn't too long ago I was stuck with no direction. I had my nose buried in the grindstone and I wouldn't allow myself to look up from what I was doing for a second. I used to think I was a hard worker, and that I was dedicated, brave, and strong, but it took some time to realize that I was wrong about it all.

=>> Click to read the full article...