Menu
Each issue features exciting advice and ideas from the leaders in motivation and self-improvement! As a member of our free newsletter you get action packed ideas that you can implement right now to put yourself on the fast track to personal success.

Dr. Robert H. Schuller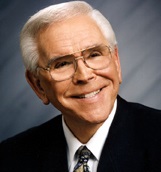 Robert H. Schuller has inspired people across the globe, through his work as a pastor, appearing on the weekly Hour of Power television show. He is also known for his inspirational books, which inspire audiences world-wide.
Dr. Schuller encourages people to achieve great things through God and to believe in their dreams. He is known for saying, "If you can dream it, you can do it!"
Robert Schuller has written more than thirty books, including Tough Times Never Last but Tough People Do; If It's Going to Be, It's Up to Me; Prayer: My Soul's Adventure with God; Power Thoughts: Achieve Your True Potential Through Power Thinking; The Be-Happy Attitudes; and Success Is Never Ending, Failure Is Never Final.
Born: September 16, 1926
Died: April 2, 2015
Quotes by Robert Schuller ...
"Anyone can count the seeds in an apple, but only God can count the number of apples in a seed." -- Robert H. Schuller
"Goals are not only absolutely necessary to motivate us. They are essential to really keep us alive." -- Robert H. Schuller
"I'd rather attempt to do something and fail than to attempt to do nothing and succeed." -- Robert H. Schuller
"Let your hopes, not your hurts, shape your future." -- Robert H. Schuller
"Tough times don't last, tough people do." -- Robert H. Schuller