Menu
Each issue features exciting advice and ideas from the leaders in motivation and self-improvement! As a member of our free newsletter you get action packed ideas that you can implement right now to put yourself on the fast track to personal success.

Patrick Combs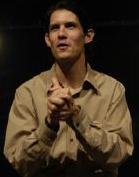 Patrick Combs is internationally known as a best-selling author, an inspiring speaker, a humorous performer and a television personality for PBS's Career Advantage. For more than a decade he has dedicated his career to helping people live with more courage, passion, inspiration and meaning.
A recognized expert for his work, he has spoken at more than 500 businesses and universities, including Shell, Motorola, Visa, Stanford, Penn and Babson, been interviewed on national television, one-on-one, by Barbara Walters, had his story told in more than 200 newspapers including Wall Street Journal, NY Times and USA Today, been featured on ABC Nightly News, NBC Nightly News, Good Morning America, Phil Donahue, Montel Williams and The Late Show, and three times been nominated Speaker of the Year by event planners.
Most recently Patrick was the winner of "Best Solo Comedic Performance" at the San Francisco Fringe Festival and invited to perform in HBO's prestigious U.S. Comedy Arts Festival.
People at all levels - from students to CEO's - have taken steps forward in life as a result of Patrick's coaching. Patrick has been called on to help in many walks of life, from the arts to the sciences. A master storyteller capable of creating rapt attention, and an acknowledged authority with a smart advice, Patrick always inspires, motivates, entertains and connects in a way that truly impacts.
Articles by Patrick Combs ...
Patrick Combs Video Presentation ...