Menu
Each issue features exciting advice and ideas from the leaders in motivation and self-improvement! As a member of our free newsletter you get action packed ideas that you can implement right now to put yourself on the fast track to personal success.

Paul Huff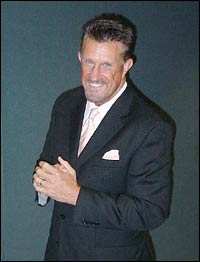 Paul Huff speaks from experience! He is President of Paul Huff International, a speaking and training company dedicated to creating and delivering dynamic information, powerful programs and practical tools of the highest quality that consistently transform the beliefs, behaviors and results people and organizations need to create success that lasts a lifetime.
His successful background as a senior executive in a Fortune 100 financial services firm led him to want to share his success with others.
Paul Huff is the author of numerous books and audio recordings, including the very popular Make Your Own Miracle series. Audiences describe him as an entertaining, funny, thought-provoking and inspiring speaker who delivers stick-to-your-ribs strategies that transforms lives and businesses.
Paul has appeared on numerous radio and television news programs and has been featured in publications across the country.
Paul works with many of America's top companies involved in virtually every industry. Tens of thousands of people in more than 13 nations have benefited from the humor, energy, and passion of Paul Huff's insightful writings, seminars, keynotes and audio recordings. Organizations and associations want Paul on their team because he facilitates bottom-line results time and time again.
Before launching his own business as a sought-after speaker, seminar leader and executive coach, Paul spent 27 successful years as a leader in the financial services industry.
In the financial world, Paul served as a senior vice president of First Union Home Equity Corporation, where he was the first recipient of the coveted President's Award for Excellence. He consistently broke sales, productivity and operational records that led to the company winning many industry awards.
Today, Paul combines his solid business background with passion-fired skills in teaching both individuals and organizations to achieve unprecedented performance with ease and joy. He specializes in the areas of sales, leadership, and performance.
Quotes by Paul Huff ...
"Don't confuse your special innate talents with the many skills you've learned. When you are looking for your life's work, talent is a much better indicator than skill." -- Paul Huff