Menu
Each issue features exciting advice and ideas from the leaders in motivation and self-improvement! As a member of our free newsletter you get action packed ideas that you can implement right now to put yourself on the fast track to personal success.
Motivational Books
By Josh Hinds

Eric Lofholm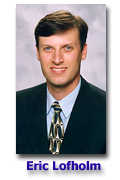 Master Sales Trainer who has trained tens of thousands of sales professionals nationwide. He is president of Eric Lofholm International, Inc., an organization he founded to serve the needs of sales professionals worldwide.
Eric began his career as a top-producing sales representative for 3 different sales organizations. His consistent track record of regularly outperforming his fellow sales reps earned a reputation of success that follows him to this day.
Eric has been trained by the top trainers of his time including: Anthony Robbins and Dr. Donald Moine Ph. D. as well as countless others. He has an insatiable quest for knowledge that he feeds by reading, listening to audiotapes, and attending seminars regularly.
Many of Americas top companies hire Eric regularly to train, motivate, and inspire their sales teams. His clients have added millions of dollars in sales to their record after attending Eric's energetic and groundbreaking seminars.
Eric has delivered over 1,500 public and private presentations.
Eric is the author of 2 books and 3 audio programs. He is also the founder of The University of Sales Champions.
Check out Eric's book:
The System: The Proven 3-Step Formula Anyone Can Learn to Get More Leads, Book More Appointments, and Make More Sales.
Quotes by Eric Lofholm ...
"In sales, you don't have to be good to earn a living. There are many average sales people who earn a decent living. But why just earn a living? -- Eric Lofholm

"Roll up your sleeves and do the next right thing." -- Eric Lofholm

"Selling equals service. When you sell, sell from honesty, integrity, and compassion. It is not about a hard sell, it is about a heart sell. Selling is about leading and moving people to action." -- Eric Lofholm