Menu
Each issue features exciting advice and ideas from the leaders in motivation and self-improvement! As a member of our free newsletter you get action packed ideas that you can implement right now to put yourself on the fast track to personal success.

Art Berg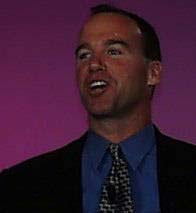 On December 26, 1983, at the age of 21, Art Berg broke his neck in a serious automobile accident, leaving him a quadriplegic.
Since that time ... Art has been recognized by three national sales awards as a computer salesman for a national firm.
Art lived in Highland, Utah where he was President of Invictus Communications, Inc. and eSpeakers.com, Inc. Art was named the 1992 Young Entrepreneur of the Year by the Small Business Administration.
In 1994, Art was featured in Success magazine as one of the Great Comeback's of the Year. As a member of the National Speakers Association, Art achieved the highest earned designation of Certified Speaking Professional and has been inducted into its Speaker Hall of Fame -- a status achieved by fewer than 1% of professional speakers.
Speaking as many as 200 times a year, Keynote Speaker's Bureau in San Francisco, California named Art as Consummate Professional Speaker of the Year. Art was married since 1985 to Utah's 1981 Junior Miss, and 1992 Mrs. Utah USA, Dallas Howard, and they have two children.
He was a world-class wheelchair athlete who enjoyed a variety of sports, including full-contact wheelchair rugby. On July 10th, 1993 he set a world-record by becoming the first quadriplegic, at his level of ability, to race an ultra marathon of 325 miles between Salt Lake City, Utah and St. George, Utah.
Art authored two regionally best-selling books entitled Some Miracles Take Time, and Finding Peace in Troubled Waters. Art traveled more than 200,000 miles a year speaking to hundreds of professional and civic organizations such as IBM, 3M, Sun Microsystems, American Express, AT&T, Young Presidents Organization, Coca-Cola, GTE, Sony, KeyCorp, NFL's Baltimore Ravens, and Prudential Healthcare on the topic The Impossible Just Takes a Little Longer.
It is with great sadness that I share with you that Art Berg has passed away. His passing leaves a void that will not be easily filled. His unconquerable spirit and his love for life will be with us and inspire us forever. It was a true pleasure to consider Art a friend. He inspired all that knew him to reach beyond what they thought possible.
Died: February 19, 2002