Motivational Books
By Josh Hinds

By Josh Hinds
Motivational Quotes
"Success is not what you think it is... it is what you believe it is... and most never believe..." -- Doug Firebaugh


"Worry is like a rocking chair, it gives you something to do but it doesn't get you anywhere!" -- Shared by Laurie M. Alex

"Don't try to be a great person, just try to be a good person. And if you can succeed at being a good person, then you have found greatness." -- Don Heitkamp

"Every man's life, worthy of a novel." -- Jim Potts - Springdale, Arkansas

"Live as if you were living already for the second time and as if you had acted the first time as wrongly as you are about to act now!" -- Viktor E. Frankl (From his book, "Man's Search for Meaning"
)

"It's in your moments of decision that your destiny is shaped." -- Anthony Robbins

"Focus on where you want to go, not on what you fear." -- Anthony Robbins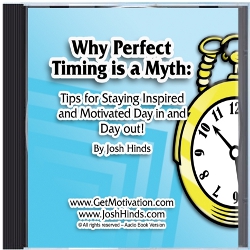 Why Perfect Timing is a Myth: Tips for Staying
Inspired and Motivated Day in and Day out!
By Josh Hinds
"You can't always control the wind, but you can control your sails." -- Anthony Robbins

"It's never crowded along the extra mile." -- Dr. Wayne Dyer

"Perception is everything. Our reality is the meaning we give to events in our lives. More importantly, other people's reality or perception of us is the image that we have of ourselves that is reflected for others to see." -- James D. Harris

"If you can't do it today what makes you think you will do it tomorrow?" -- Yusuf Tura

"In life you can never be too kind or too fair; everyone you meet is carrying a heavy load. When you go through your day expressing kindness and courtesy to all you meet, you leave behind a feeling of warmth and good cheer, and you help alleviate the burdens everyone is struggling with." -- Brian Tracy

"Have regular hours for work and play; make each day both useful and pleasant, and prove that you understand the worth of time by employing it well." -- Louisa May Alcott

"Excellence is to do a common thing in an uncommon way." -- Booker T.Washington (Shared by The Wells)

"The most powerful agent of growth and transformation is something much more basic than any technique: a change of heart." -- John Welwood (Shared by Jane)

"The only thing you have to fear is not giving 100%" -- Shared by Stacia

"One person with a belief is equal to a force of ninety-nine with only
interests." -- John Stuart Mill

"If you don't think you can do it, who will? You control the most important tool in success, your mind." -- Jeffrey Gitomer
Quotes Page1 | Quote Page 2 | Quote Page 3 | Quote Page 4 | Quote Page 5 | Quote Page 6 | Quote Page 8 | Quote Page 9 | Quote Page 10 | Quote Page 11 | Quote Page 12 | Quote Page 13 | Quote Page 14 | Quote Page 15 | Quote Page 16 | Quote Page 17 | Quote Page 18 | Quote Page 19