Featured

Communication Mastery

by Tony Jeary

You will learn:

* The 8 essentials of the Perfect Message

* The power of the "So What" Factor

* The personality types you must be able to recognize and handle

* The single word that will convince 93% of your listeners every time

* And much, much more!
---
<- Back to the Motivational H.O.F.
---

Free Motivation ezine
Each issue features exciting advice and ideas from the leaders in motivation and self-improvement -- names you've come to know like:
Zig Ziglar
,
Jim Rohn
,
Brian Tracy
,
Bob Burg
,
Josh Hinds
, plus many more super-stars of motivation! As a member of our free newsletter you get action packed ideas that you can implement right now to put yourself on the fast track to personal success.
* We respect your privacy. Your e-mail address will never be shared or sold to anyone.
Tony Jeary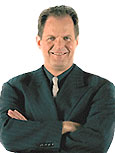 Tony Jeary: Coach, Author, Speaker, Celebrity, or often called a "high performance resource." His incredible track record of consistently exceeding expectations has earned him the title of Mr. Presentation™!

Tony teaches others how to get 100% audience buy-in every time they make a presentation. His best selling book, Inspire Any Audience is described by success guru, Zig Ziglar, as "The Ultimate Presenter's Handbook." Tony's books and his live programs have established him as one of the top human performance experts in the world today.

Inspire Any Audience (Sell More, Get Energized, Get Better Results) Tony is CEO of High Performance Resources, a global training organization which develops and conducts multi-million dollar events for major corporations around the world.

Tony travels hundreds of thousands of miles each year sharing ideas and helping people achieve greater success through improved communication, marketing, planning and goal setting. Tony Jeary has made a difference for thousands of people and hundreds of companies worldwide.
Quotes by Tony Jeary ...
"Most of the time, stuff doesn't just happen to us - we make it happen by what we do and the way we are." -- Tony Jeary

"The effectiveness of any presentation depends greatly upon our confidence in the quality and appropriateness of that presentation's content." -- Tony Jeary

"What distinguishes winners is the will to prepare to win."
-- Tony Jeary
(Your email address will not be shared, or rented,
and you'll be free to unsubscribe at any time.)