Paulette Ensign Success Interview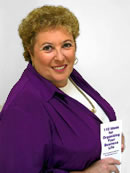 Josh Hinds: Hello Paulette, first I'd like to tell you how much I appreciate your taking the time for this interview. You've got a truly inspiring story and I know that our community web site visitors can gain a lot from it...

Please start out by telling us the specifics of your current business as well as how anyone reading this may contact you.

Paulette Ensign: Thanks for the opportunity to share this information with your web site visitors, Josh. My company, Tips Products International, helps individuals and companies promote their business with informational tips booklets. That means a range of products and services are available for every budget of time and money.

We've got ready-made booklets for people to purchase to promote their own business. Then there is an e-booklet catalog at our web site as a great way for people to buy a downloadable copy of many different booklets to then decide about purchasing a quantity of hard-copy booklets from the various authors. There's how-to products and services to teach people how to write, produce, and market their own booklet.

We also provide services to write it and produce it for them. I also do speaking engagements nationally and internationally about how to promote your business with booklets. The company has developed into quite a full-service organization. People can contact us at Paulette@tipsbooklets.com or by phone at 858-481-0890 (Pacific Time Zone).

Josh Hinds: What I found particularly interesting in your story is the many metamorphosis that you've went through in your career life. Eventually ending up doing what you do now. Very successfully I might ad :-). Please give our readers your background and how each step in your life lead to your current business.

Paulette Ensign: This journey has been an interesting one for me, no question about that. Being 'The Booklet Queen' is now my third career. I started off teaching string instruments in public elementary schools for 11 years. It was very rewarding in many ways, yet after 10 of those 11 years, I knew it was time to move on.

My second career showed up in the early '80's in the way of becoming a professional organizing consultant. This was a very young industry, and I was fortunate in not only finding a career that suited me then, I was also able to contribute to building an entire industry over the next 15 years, serving in various positions of leadership with the National Association of Professional Organizers. In fact, I was ultimately the national president for 2 years.

This career lead me to writing a 16-page booklet, "110 Ideas for Organizing Your Business Life". I wrote it as a marketing tool and revenue stream for my consulting and speaking business as a professional organizer. Little did I have a clue what a catalyst that booklet would become. I've now sold over 500,000 copies of that booklet, in 3 languages and various formats, all without spending a penny on advertising. And I'm nowhere near done yet.

Josh Hinds: To say that you were persistent with regards to building your business would be a bit of an understatement. Could you please share with us some of the more difficult challenges that came your way, and what helped you to overcome the challenges?

Paulette Ensign: The first challenge was when I wrote the booklet, I was broke. It was the early 1990's, the US economy was in sad shape, and so was the economy of my own organizing business at that time. I wasn't sure just how I was going to even get the booklet produced, much less get it out into the world.

I cut corners on the original production, called in some favors from friends to typeset it and print it and lived to regret those favors because the production quality was so poor. The solution to that was to then run a very small print run and take longer to pay it off than everyone would have liked. I also didn't have money to advertise, which turned out to become a claim to fame in that I've done what I've done without spending a penny on advertising.

The booklets have been sold through publicity excerpts in magazines and other media, and through direct large quantity sales to companies and organizations for them to use the booklet for their own promotional purposes.

What helped me overcome these basic challenges was a couple habits I had formed called eating and paying the rent! It was very simple motivation. Those days seem like lite years ago now.

Josh Hinds: There seems to be a misconception among people that it takes a large investment to get going in a business. You're story is a perfect example that large amounts of capital aren't the only way to thrive in starting a business. Please share with us what your investment was to start your current business.

Paulette Ensign: My total investment of dollars was $300 to run 250 copies of my booklet. Now it can be literally zero since it is very possible to create an e-booklet and sell it online without even producing a hard copy of it at all. I've also learned of the successes of a client of mine that reinforces a concept I teach people.

This person has now surpassed my own sales results, by the way. He has sold over 600,000 copies of his booklet on road safety and there's two interesting parts to his story. First, 100% of his sales have been through licensing deals, where he licensed the right to his client to print a specific number of copies. Secondly, all his sales have been made by putting a mock-up of his booklet in front of the decision makers. He has never produced a single copy of his booklet in finished format!! So, it is totally possible to do this business with a tiny investment.

Josh Hinds: Please share the story of how you sold over 500,000 of your Tips Booklet. What challenges did you face and how did you overcome them?

Paulette Ensign: I've used several marketing methods to create the results that I have. The first was publicity excerpts, where I sent a copy of the booklet and a cover letter to magazines, inviting them to excerpt from the booklet. I sold over 15,000 copies of my booklet one at a time this way. Then I sold and do sell directly to corporations and organizations for them to use for their own promotional purposes. They have me imprint the covers or customize them in some other way, usually buying 1000-5000 copies at a time.

I've sold about 150,000 or more copies this way. The next method is licensing reprint rights to the booklet. The booklet has been reproduced as a booklet, as well as in other langauges and other formats. These sales all came in different ways. Some came to me on referral from someone I knew, or because someone bought a copy of the booklet, or heard me speak somewhere. Most I tracked down once I saw an opportunity. Those opportunities are everywhere once you know what to look for, and depending on whether the creativity switch is in the 'on' position on a given day.

Each and every booklet or other product that came from the booklet continues to be a revenue source while also marketing my business. The biggest challenge at each step of the way was in learning something new. I have no business background other than what I've learned in the course of doing this business. My credentialled background is two degrees in music education. The other challenge was in staying motivated, especially when things were slow, or after I had made some blunder that cost me money or time I wasn't anticipating.

Getting past these challenges came with research to find out how to correct the situation, coupled with the fullness of time easing smoothing things over.

Josh Hinds: Did you have a mentor or support group along the way to building your business? If so, how did they play into your success.

Paulette Ensign: I did not have a mentor as such. At different times along the way I've had individual support from different places. Some support came in the form of introductions to sales opportunities, or in production suggestions early on. Primarily I figured most of this out on my own as I went. It's probably the toughest way to do that. I just wasn't finding people who understood what I was doing or trying to do.

I pieced a lot of things together from various places, and then just went on my own from there. The great thing for anyone wanting to do a booklet now to promote their business is that I've put together all of what I did (potholes and all) into some home study courses so that people can streamline their own journey and have greater success easier and quicker than what I did.

Josh Hinds: If you could recommend a few resources to people that are looking to start (or already have) their own business what would they be? And why?

Paulette Ensign: There are now some excellent free discussion boards online. The beauty of those is their 24-hour availability and that many of them are frequented by people who have useful input, who are generous with their knowledge. One very good discussion board is at www.ablake.net which is all about entrepreneurial success and marketing. There is also a discussion board at my own site, www.tipsbooklets.com Many people think marketing is difficult or that they don't know how to do it. It can be much less daunting now than ever before with the ability to do a lot of marketing online and there is more down-to-earth guidance on marketing than there has ever been as well. There's really endless directions for people to go. I have a page of web sites of interest on my web site that people will find useful for a broad spectrum of business-related needs.

Josh Hinds: I think this one is a no-brainier, but I am going to ask it anyway. How important is keeping a set of goals for one's business? What specific goals would you recommend people work towards?

Paulette Ensign: Goals are important, and the willingness to modify them is even more important, in my opinion. The most important goal is to decide what really makes you happy. Hopefully it is something that will also make you money and has the kind of time and energy requirements that support what you want your life to be. Once you get into something, if it does not continue to be what you need it to be, it's crucial to re-evaluate it, see how and if it can be changed, and do so or get on to something else.

Josh Hinds: Finally, could you share your web site address and contact info so that folks can easily visit your site? Take it from me folks... The message board is reason enough to drop by... Thanks again for your time Paulette.

Paulette Ensign: Thanks, Josh. My web site address is www.tipsbooklets.com People can also phone me at 858-481-0890, M-F, 9-5 Pacific Time.


-----------------------------

If you enjoyed the interview above -- Don't miss out on our FREE Let's Talk Motivation newsletter. Each issue includes the same high quality advice from leaders in the area of motivation and personal development -- like the one you just read :-) ... Sign up now:

(Your email address will not be shared, or rented,
and you'll be free to unsubscribe at any time.)
A Motivation Community
Home

Back to the Focus On Success Interviews Section



Free Motivation ezine

Each issue features exciting advice and ideas from the leaders in motivation and self-improvement -- names you've come to know like: Chris Widener, Zig Ziglar, Jim Rohn, Brian Tracy, Bob Burg, Josh Hinds, plus many more super-stars of motivation! As a member of our free newsletter you get action packed ideas that you can implement right now to put yourself on the fast track to personal success.

* We respect your privacy. Your e-mail address will never be shared or sold to anyone.