Jim Rohrbach Success Interview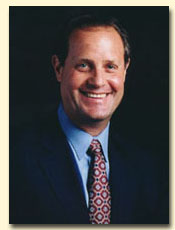 Today our guest is Success Skills Coach Jim Rohrbach, who in November of 2002 is celebrating 10 years as a full-time coach.

Josh Hinds: Jim, I appreciate your taking the time to do this interview. Can you share your background with us and tell us what led you to where you are now?

Jim Rohrbach: Thanks Josh! It's been a long strange trip, so to speak, as I was originally training to be a family therapist. I was in a Ph.D. program for this, but in 1981 I quit halfway through ... I knew I wanted to help people, but the therapy model didn't seem to mesh with what I felt people really needed -- which turned out to be coaching, although it didn't even exist as a profession at the time!

After taking an 8-month trip around the world, in 1982 I developed my first prototype coaching program and began to market my services. However, I knew nothing about the business side (a critical skill for all coaches), so even though I had attracted some clients, I folded. Here's the funny part: I took my coaching materials (an easel pad and some booklets) and threw them in the dumpster, saying to myself, "What a stupid idea ... I'll never try that again!" HA!

Through the rest of the 1980's, I held a couple of corporate jobs, but I keep reading personal development books, listening to inspirational audio tapes and attending seminars. And in 1992, I convinced myself that being a coach was still my destiny ... so I took the leap of faith again. And I'm still standing today after 10 years -- AMAZING!

Josh Hinds: Jim, you specialize in coaching business owners, entrepreneurs and commissioned salespeople. If you could share just two ideas or tips that would make the biggest impact on these folks what would they be?

Jim Rohrbach: Sure. Number one -- you must develop a goal directed Mission Statement for your career, similar to the "statement of major purpose" Napoleon Hill described in his book Think and Grow Rich.

Number two -- even though you may know the technical side of your business, you must be ready, willing and able to market and especially SELL yourself to your ideal prospects. There are a lot of professional service providers -- financial advisors, insurance agents, realtors, accountants, etc. (and lots of coaches) -- who believe they're good at what they do, but are fearful of selling themselves ... and so they're starving.

Josh Hinds: What is a mission statement, and why should someone develop one?

Jim Rohrbach: A Mission Statement is a paragraph that describes who you are and what you intend to accomplish. Why have one? Simple -- the people who know where they're going are most likely to get there. Conversely, if you don't know exactly where you're going, you DEFINITELY get NOWHERE, which describes most of the population.

The essence of my Mission Statement is "to GUARANTEE I create happy successful clients who have a clear-cut sense of purpose, high self-esteem and meaningful, achievable goals." I assist all of my clients in developing their Mission Statement at the very beginning of our coaching relationship ... it's that important.

Josh Hinds: What steps can a person take to develop their own personal mission statement?

Jim Rohrbach: Glad you asked! It seems like a lot of people have gotten stuck writing out a good Mission Statement, and so haven't gotten it done at all. I've had the good fortune of putting my proprietary Mission Statement Process together with the good people at Nightingale-Conant Corporation So now anyone can easily create a Mission Statement on-line by going to The Nightingale-Conant Mission Statement Builder (note: scroll down the left side of the page and then click on the link that reads "Mission Statement Builder").

This is a deceptively simple yet effective way to craft a Mission Statement in no time. (I'd love to know what your readers have done with this ... they can email me at coach@SuccessSkills.com )

Josh Hinds: Who are the 3 people who have had the most influence on your personal development on your journey to success ... and why? What are the top three books, or tapes that have had the greatest impact on you? And can you share a quick overview of them.

Jim Rohrbach: First ... many people, myself included, consider the aforementioned Think and Grow Rich by Napoleon Hill to be the greatest book ever written on the philosophy of success. From it's pages I learned the importance of clearly defining my purpose, which is not taught in our entire educational system ... what a crying shame!

Think and Grow Rich is also available on audio through Nightingale-Conant Corporation, and I recommend you get a copy even if you have the book -- it has a number of live segments of Hill himself presenting his personal achievement concepts.

Second, I believe the current "Dean of Personal Development" (which used to be Earl Nightingale's "title") is Brian Tracy, a truly world class speaker, trainer, coach and author. Many people may not have heard of Brian because he's typically speaking to the top 5 - 10% of achievers in the world today ... and when I say "world," he's spoken in over 80 countries! (I'm still "local" here in the USA...)

My favorite book by Brian is Success is a Journey, in which he relives his travels through Canada, Europe and Africa in his early 20's, and the hard lessons learned. But the best way to learn from Brian Tracy's vast knowledge of success skills is to purchase any one of his many audio programs from Nightingale-Conant. He's the number one recorded author for NC, and you simply can't go wrong with any of his offerings.

Finally, after I felt I knew how to coach, I still needed to learn to sell my services. And I learned a system of selling from a book by the late, great David Sandler called You Can't Teach A Kid To Ride A Bike At A Seminar (what a great title, huh?). David founded the Sandler Sales Institute, and created an effective system for turning prospects into paying clients ... it's been invaluable to me in building my coaching clientele. The book is out of print now, but Nightingale-Conant has created an audio program called Close The Deal which is based upon the Sander Sales Institute's 7 Step Selling System. I highly recommend it to any sales professional.

Josh Hinds: What is your best piece of advice to people who want to work on transforming their dreams into reality? How important is persistence in your opinion?

Jim Rohrbach: My best advice is to take the risk of going for whatever you decide will make you happy, regardless of negative feedback from others. Y'know Josh, the number one de-motivator for all people is fear of disapproval ... most people are afraid of what others might think about them or say about them if they really did what they wanted to do.

Because we all grow up as "approval seeking junkies" -- when we're small, we'd most likely die without going along with what our parents, family, peers and society wants for us. And so many among us (myself included in my past) never take the responsibility to define, and then pursue our dreams. As a coach, my job is now to assist people in this process ... it's actually quite doable, and the results are often spectacular!

As far as persistence, one of my favorite inspirational quotes comes from an unlikely source, Calvin Coolidge (the 30th President of the United States): "Persistence and determination alone are omnipotent." Because if it were EASY to succeed, then everyone'd do it, and it would be worth the equivalent of flipping burgers at your local fast food joint. I've persisted despite several years of adversity, and it's made me a better coach along the way -- I'm in a much better position to help those who are striving to get to the next level.

Josh Hinds: Jim, again thank-you for taking the time to do the interview. Is there anything else you would like to share that would be valuable? Also, please let everyone know how they can reach you online.

Jim Rohrbach: I'd like to share the biggest misconception about coaching -- that it's for people who are struggling. Take Tiger Woods, for example -- he's considered to be the greatest golfer in the world, and he has a golf coach! Makes sense, doesn't it?

Likewise, my ideal prospects are people who are already doing well, and want to do better. These are people who, on the surface, appear to others to have no need for my services. However, the ones who become my coaching clients are constantly looking to improve -- they read the books, listen to the tapes and go to the seminars on personal & professional development ... and they're the ones who then lead the field. These folks understand by investing in my coaching services, they can anticipate a 200%, 300%, even 500%+ return on investment ... and that's a lot better than they can do in the stock market.

In closing, I invite all of you reading this interview to visit my web site at www.SuccessSkills.com. And if you're interested in finding out if I'm the right coach for you or not, you can click on my "FREE Consultation" button to set up a time for us to talk. As I GUARANTEE results in writing to each of my clients, what do you have to lose?


-----------------------------

If you enjoyed the interview above -- Don't miss out on our FREE Let's Talk Motivation newsletter. Each issue includes the same high quality advice from leaders in the area of motivation and personal development -- like the one you just read :-) ... Sign up now:

(Your email address will not be shared, or rented,
and you'll be free to unsubscribe at any time.)
A Motivation Community
Home

Back to the Focus On Success Interviews Section



Free Motivation ezine

Each issue features exciting advice and ideas from the leaders in motivation and self-improvement -- names you've come to know like: Chris Widener, Zig Ziglar, Jim Rohn, Brian Tracy, Bob Burg, Josh Hinds, plus many more super-stars of motivation! As a member of our free newsletter you get action packed ideas that you can implement right now to put yourself on the fast track to personal success.

* We respect your privacy. Your e-mail address will never be shared or sold to anyone.