---

Free Motivation ezine
Each issue features exciting advice and ideas from the leaders in motivation and self-improvement -- names you've come to know like:
Zig Ziglar
,
Jim Rohn
,
Brian Tracy
,
Bob Burg
,
Marcia Wieder
,
Josh Hinds
, plus many more super-stars of motivation! As a member of our free newsletter you get action packed ideas that you can implement right now to put yourself on the fast track to personal success.
* We respect your privacy. Your e-mail address will never be shared or sold to anyone.
Marcia Wieder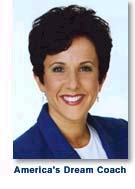 Oprah Winfrey called Marcia Wieder America's Dream Coach. She is a top rated presenter on visionary thinking, goal achievement and team building to companies such as Lucent, American Express, The Gap, and International Association of Business Communicators.

She has spoken to thousands of teenagers, the National Guard and even to prison inmates. Marcia has written 4 books, Making Your Dreams Come True, Life Is But A Dream, Doing Less and Having More and (soon to be released) Dreaming on Purpose.

She is the founder of Dream University, her week-long program on igniting passion and discovering your purpose. She has often appeared on Oprah and The Today Show and is featured in her own national PBS television special entitled Making Your Dreams Come True. Marcia is a co-founder of the Institute for Evolutionary Leadership and a former president of the National Association of Women Business Owners.

She is the recipient of the Small Business Administration's Women in Business Advocate of the Year, and (although she doesn't drink it) the Chivas Regal Entrepreneur of the Year Award. She is a member of the National Speakers Association. She lives in her "dream" city of San Francisco where she is pursuing her dream of living at the water, balancing work and play, with much more emphasis on play.

Quotes by Marcia Wieder
"Focus more on your desire than on your doubt, and the dream will take care of itself. You may be surprised at how easily this happens. Your doubts are not as powerful as your desires, unless you make them so." -- Marcia Wieder

"Commitment leads to action. Action brings your dream closer." -- Marcia Wieder

"It's how we spend our time here and now, that really matters. If you are fed up with the way you have come to interact with time, change it." -- Marcia Wieder


(Your email address will not be shared, or rented,
and you'll be free to unsubscribe at any time.)