Featured
Creating Magic: The
Art of Designing
Your Destiny
by Jerry Clark
Make the 21st Century Magical By Creating A Life You Love!
The basic and cutting edge technology for creating long term positive change in your life is presented in this program.
Over $100,000 and over 14,000 hours were spent by Jerry Clark acquiring the principles, tools, strategies, and philosophies that can produce positive changes in your life... Learn more about
Creating Magic: The Art of Designing Your Destiny
---
<- Back to the Motivational H.O.F.
---

Free Motivation ezine
Each issue features exciting advice and ideas from the leaders in motivation and self-improvement -- names you've come to know like:
Zig Ziglar
,
Jim Rohn
,
Brian Tracy
,
Bob Burg
,
Les Brown
,
Josh Hinds
, plus many more super-stars of motivation! As a member of our free newsletter you get action packed ideas that you can implement right now to put yourself on the fast track to personal success.
* We respect your privacy. Your e-mail address will never be shared or sold to anyone.
Jerry Clark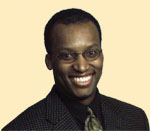 Jerry Clark became a self-made millionaire while still in his 20's. Today, through his company Club Rhino, Inc., he conducts personal and professional development seminars around the World.
The topics covered range from peak performance training, effective communication strategies, and how to increase your productivity and profitability in your Home Based Business. Jerry is the producer of over 100 of the most empowering audio programs available in the Networking industry. Many of which he is also the author, such as The Magic of Influence, and High Achievement Network Marketing.
Jerry's training products are currently being used by dozens of Direct Sales and Networking companies in over 35 countries worldwide. Jerry recognizes that change occurs at the individual level, and he's committed to training others how to improve themselves by teaching peak performance strategies that get results.


His articles appear in many major publications such as Success Magazine and he is on the advisory board of Working At Home Magazine. Jerry is the CEO & President of Club Rhino, Inc., The founder of AMG Business Group and The International Academy of Rhinology™

Articles By Jerry Clark ...
17 Words That Changed My Life Forever
The Daily Dozen Disciplines For Massive Success This Year and Beyond
(Your email address will not be shared, or rented,
and you'll be free to unsubscribe at any time.)