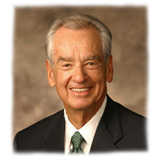 The Lundy-Smiths are a remarkable family from inner-city New Orleans. Susie Mae Lundy and husband, Willie J. Smith, a Baptist pastor, raised nine successful children. According to FORTUNE magazine, the parents set an entrepreneurial example built around commitment, faith and hard work. Each child grew up with assigned responsibilities. By age five the six boys were expected to hose down and sweep the driveway of the family's Exxon gas station and auto repair shop.
Larry Lundy, owner of 31 Pizza Hut outlets, says they knew that what the family ate at the end of the day was contingent upon what they did during the day. That kind of motivation is pretty easy to understand–and can be very effective.
Today, Michael is a Mobil Oil executive in Houston; Harold is president of Louisiana's Grambling State University; Mark and Wilton are psychiatric counselors in Houston; Nell is an elementary school teacher in Houston; Lloyd is a vice president at Goodwill Industries in Beaumont, Texas; Jackie is an emergency room nurse and Yolanda is an accountant, both in New Orleans.
All of them are hard-working, productive citizens and they started early. Back in 1978 all the kids led a fund-raising drive that raised about $65,000 to build the church their father now leads. These "kids" have also presented their parents with 14 grandchildren and three great-grandchildren.
Yes, it looks like the American Dream is still alive for those who are willing to work hard and dream that American Dream, particularly if they have parents who guide and direct them early on. Think about it and I'll SEE YOU AT THE TOP!
_______
Zig Ziglar was a teacher and motivator. His work continues to inspire people all over the world to pursue success and go for their dreams. Learn more about him at www.ziglar.com
* Zig is the author of Secrets of Closing the Sale