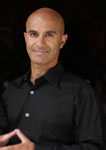 So many of us have heroes. Leaders, artists or entrepreneurs that inspire us. People who have made an impact, people who have shown us a better way, people who have overcome outrageous odds.
Yet, the interesting insight about heroes is that they have the human imperfections and weaknesses that we do. They have their bad days, they feel despair, they get knocked down (in fact, heroes get knocked down more than the rest of us).
Yet, in spite of their human frailties, heroes find a way to change the world.
Here's my challenge to you — be your own hero. Ask yourself, what would it take for me to show up in the world like my heroes?
You may never discover a life changing medicine, invent a best-in-class product or win the World Cup. But, you can show up every day with discipline, compassion and extraordinary commitment.
So, in your journal, go through the following steps and take the hero's journey.
1. List three to five of your heroes.
2. For each hero write down the traits that you admire. Is it Steve Nash's selflessness on the court? Is it Martin Luther King's commitment to civil rights? Is it Richard Branson's vision?
3. Then translate these traits into your life. Can you be more selfless at work? Can you make an unshakable commitment to doing the right thing? Can you create a powerful vision for your life and pursue it?
4. Write these traits down on a card or better yet on a picture of that hero. Remind yourself to act like that hero. This way your hero becomes your mentor — even if you'll never meet them.
5. Then go into your days and live like the hero you are.
_______________
Robin S. Sharma, LL.M. is an internationally-known speaker on sales leadership, peak performance and creativity. The bestselling author of several motivational books including MegaLiving, he is the managing partner of Sharma Leadership International. He can be reached at RobinSharma.com
Featured:

The 5 AM Club: Own Your Morning. Elevate Your Life.
by Robin Sharma