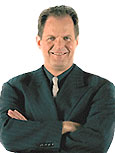 One of the primary tenets of any successful presentation (a presentation is defined as any time you talk to one or more people) design is the establishment of "tone."
When it comes to presentations, the term tone refers to much more than merely an individual's "tone of voice." The tone of a presentation is really about audience perception.
The simple truth is that your success or failure at anything — whether ordering a hamburger in a restaurant or speaking to a 5,000 person assembly — is largely contingent upon how you are received by the person or persons you are speaking to.

=>> Click to read the full article...