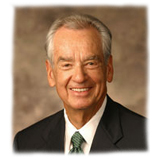 Fear has been correctly identified with the acrostic False Evidence Appearing Real.  The truth is that if we think something is to be feared, that perception becomes the cruelest form of reality.
A second-grade boy was overheard saying, "It's easy to be brave when you're not scared." By the same token, it's easy to talk about how to overcome fear when you have little to be afraid of.  Fear is certainly real for most people and all of us face a fear of something – poverty, divorce, rejection, death, failure, speaking in public, being laughed at, etc.

=>> Click to read the full article...