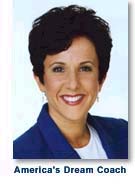 You can create a Passion Quest to find your purpose, create new dreams and gain greater clarity. You don't even have to put your whole life on hold.
You can take a day, weekend, week or year… the purpose is to find, discover or reconnect to what you love… and then to follow it.
Let life lead you to and through the unknown where amazing gifts and insights often await. Connecting with yourself on a deeper level will help you achieve your dreams so in order to do this; you might choose to go on a Passion Quest.

=>> Click to read the full article...