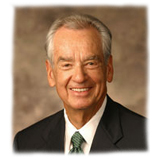 Where will the records stop?  In 1954 Roger Bannister ran a sub-four-minute mile and it ignited the athletic world.  In 1994, Eamonn Coghlan of Ireland, at age 41, ran a sub-four-minute mile.  Incredibly enough, Kip Keino of Ethiopia, at age 55, ran a 4.06 mile.  The fastest mile run to date [when this column was originally written] is 3:43.13 accomplished by Hicham El Guerrouj of Morocco.
But back in 1954 more than 50 medical journals had published articles saying that the four-minute mile was not humanly possible.  Doctors were warning athletes of the dire consequences to anyone who broke that unbreakable barrier.

=>> Click to read the full article...