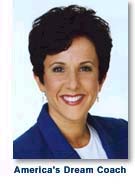 Can you imagine actually being comfortable with the unknown and uncertainty? Uncertainty provides an opportunity to stop, check in and make powerful choices to clear away what's no longer true, so you have more time and space for new dreams that are aligned with who you are now.
As we become comfortable with uncertainty we can have more clarity about how we want our life to be. This is exceptionally useful since the truth of life is, it's more uncertain than certain.

=>> Click to read the full article...